ISO 9001 Certification
"Integrated Assessment Services (IAS) is one of the top-searching ISO 9001 Certification Bodies in Asian countries. We offer an easy yet effective process to achieve a globally recognized ISO 9001 Certification. It is the popular Quality Management System (QMS) certification followed by many organizations in Asia. This certification is a great treasure for an organization regardless of its size, type, and nature. Moreover, it assists organizations to reach the next level in the Asian business market.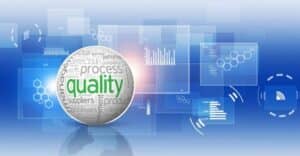 International Organization for Standardization (ISO) is famous for developing standards for businesses in quality, safety, and environment management system. The purpose of ISO 9001:2015 is to identify the problems in the Quality Management System of an organization. This standard provides solutions with all quality measures for the organization to meet the international standards. In addition, ISO 9001 also offers high-quality procedures and processes in a simple form for a better understanding of the organization.
As ISO is a worldwide organization, the customers mostly prefer ISO certified products and services to escape from low-quality business resources. Therefore, achieving ISO 9001 Certification helps your business enter into the global market.
Importance of Quality Management System (QMS)
Firstly, it is a necessity for the top management and employees to understand the importance of QMS. So that it will be effortless for an organization to achieve ISO 9001 certification. ISO 9001 provides specified requirements to meet customer expectations. In other words, this standard is the key to impress more customers. It concentrates on both product and service control to lead a successful business. Further, it delivers efficient strategies to powerfully fit in the business industry.
ISO Quality Management System Certification confirms the quality of products and helps grip on the effective performance of QMS. This ISO QMS Certification helps enhance the reputation of the organization.
The employees' confidence bonded with the effective performance of the Quality Management System. This was ensured through the ISO 9001 Certification. It helps to stabilize the corporate image of the organization.
Strong QMS, Sturdy organization
A building needs a strong foundation to stay study for years. Similarly, an organization should comply with the requirements of ISO 9001:2015 to have a long-time relationship with customers and shareholders.
Quality Management System is the basic medium to achieve organizational performance and desired goals. ISO 9001:2015 delivers comprehensive strategies to stabilize the growth of the organization.
ISO 9001 Certification ensures that the organization follows the requirements of ISO 9001:2015. The ISO 9001:2015 Certification is the basic foundation to increase the productivity and profit of the business. Also, this is the perfect confirmation for the organization with efficient changes in communication, production, and quality of products and services.
IAS and its services
IAS is a famous, trustworthy ISO 9001 Certification Body that was established in 2006. It is a UQAS accredited platform for auditing and issuing ISO standard certificates.
This ISO 9001 Certification Body offers genuine guidance with professional experts. They ensure convenient services as per the trend and nature of the local markets.
Also, IAS is the best and broad platform for Lead Auditor, Internal Auditor, and awareness and foundation training. It conducts audits effectively and helps with standardized solutions in a well and understandable manner.
IAS offers ISO 9001 Certification service in many Asian countries including India, Bangladesh, Philippines, Thailand, and Vietnam.
Benefits of ISO 9001:2015 Certification
ISO 9001 Certification helps achieve customer satisfaction
Ensures effective performance and overall growth of the organization
Provides essential guidance to analyze and take actions on the failures
specified requirements of ISO 9001  reduce manufacturing low-quality products consequently
Increases profit and productivity of the organization
Just Ask, Get Answers
Your questions and comments are important to us. Just reach us through phone or email, we got everything covered for your needs.