What is ISO 22301 Certification?
ISO 22301 Certification is a process that organizations can undergo to ensure that they have implemented a comprehensive Business Continuity Management System (BCMS). ISO 22301 Certification provides assurance to customers, regulators, and other stakeholders that an organization can effectively manage disruptions and continue to provide critical services.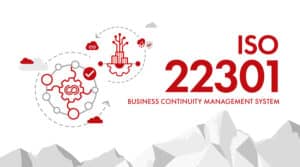 Why ISO 22301 Certification in Philippines?
Businesses are increasingly recognizing the importance of ISO 22301 Certification as a way to protect their reputation and safeguard against the financial losses that can result from disruptions to their operations. In addition, many organizations are required by law or regulation to have a Business Continuity Management System in place, making ISO 22301 Certification an essential part of doing business.
How Can ISO 22301 Certificate Benefit Your Business?
An ISO 22301 Certificate can help your business:
Ensure that critical services are maintained during disruptions
Protect your reputation
Comply with legal and regulatory requirements
Reduce the risk of financial losses from disruptions
Improve overall business performance
Which Organizations Can Apply?
ISO 22301 Certification is suitable for any organization, large or small, in any sector. there are no specific prerequisites for ISO 22301 Certification, although it is recommended that organizations have a Business Continuity Management System in place before beginning the certification process. Some examples include:
Financial Institutions
Telecommunications Providers
Manufacturing Companies
How to Get ISO 22301 Certified in Philippines?
The certification process has 2 auditing stages, which include:
1] Stage 1 Audit (Preliminary audit) – The first step in a Certification audit is to determine whether an organization is prepared for Stage 2 (a Certification audit). It begins with a thorough knowledge of the company's policies, procedures, goals, and risks. On-site auditing is used to determine whether the management system has met the standards by examining documents and interviews with staff.
2] Stage 2 Audit (Certification Audit) – An organization's entire management system is scrutinized and audited at the conclusion of the ISO 22301 certification procedure to ensure that it meets the ISO 22301 criteria. The time it takes for a business to pass through stage 2 of the ISO 22301 audit is determined by its size, the number of facilities it has, and what activities it performs
After the two audit phases have been completed and any non-compliance concerns have been addressed, the ISO 22301 certification will be given.
Get ISO 22301 Certified in Philippines Through IAS
IAS Certification Body can assist you in obtaining an ISO 22301 certification in Philippines for your business. We are a UQAS accredited certification body and we have over 15 years of expertise assisting businesses with obtaining ISO certification, and we can give you all of the help you'll need to succeed. For our valued clients around the world, we offer a variety of management system certifications and product certifications
Kindly contact us to have a free discussion about ISO 22000 certification in Philippines for your organization! Request a quote now!
Just Ask, Get Answers
Your questions and comments are important to us. Just reach us through phone or email, we got everything covered for your needs.