CE Marking Certification
CE Marking Certification is a European conformity certification that is essential for the products to enter into the European Market. CE Marking Certification ensures the products are healthy, safety and environmental standards and can be sold in the European market. The quality in the European standards inspires the customers from worldwide to prefer CE Marking Certification products. CE marking certainly ensures the product meets the European Legislation requirements.
In French, the term CE means 'Conformite Europene' and it's phrased in English as 'European Conformity'. CE Marking certification determines the products' quality, durability and safety and also whether they're good for consumer use.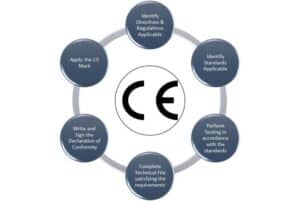 CE Marking Product Certification defines the manufacturer's promise that the products come under EU directives and are safe to handle. So, it is an identity to make the product popular in the European economic area.
CE Marking Certification By IAS
Integrated Assessment Services (IAS) is an internationally recognized CE Marking certification body in Hong Kong. It is famous for its management system certification such as ISO 9001, ISO 14001, ISO 27001, ISO 47001 and so on. IAS offers various product certifications such as Green, CE marking, Kosher, Gost-R and so on. It also offers Lead Auditor and Internal Auditor training courses on various ISO standards.
The CE Marking on your product consequently improves the sales and productivity of your business. It provides confidence to the customers as well as an assurance about the product quality.
We offer CE Marking Certification in Hong Kong for your products as well as for packaging by carefully auditing them based on the appropriate EU regulations such as low-voltage, electromagnetic compatibility, Medical device directives, etc.
Necessary CE Marking Certification Products
CE Marking on the products is the evidence to confirm that the products are safe, defectless and best in quality. Also, it tells that the product is made by following the EU directives. Some of the mandatory products that need CE Marking Certification are,
Personal protective equipment
Medical devices
Gas appliances
Electrical equipment
Radio and telecom terminal equipment
Pressure equipment
Machinery
Toy safety
Benefits of CE Marking Certification
The CE Marking on your products,
Ensures the safety and quality
Enhances customer satisfaction
Improves sales in the local market as well as globally
Reduce liability claims, timescale and costs
Also, guarantees the product complies with EU directives
IAS Product Certification Procedure
IAS offers easy yet effective ways to obtain CE Marking certification for your products.
Firstly, complete the IAS Product certification application form and send it to us.
Our auditors carry out the evaluation procedure on all requirements, related to your applied product.
Auditors determine the specified or applicable requirements of the product.
Evaluation of the product based on specified requirements
Comparison of technical documentation given by the manufacturer and audit results
 IAS issues certification for your product if the requirements are satisfied,
If not, our auditors will guide you with implementation techniques
Just Ask, Get Answers
Your questions and comments are important to us. Just reach us through phone or email, we got everything covered for your needs.