What is ISO 45001 Certification?
ISO 45001 is a globally recognized standard for occupational health and safety management systems. The standard helps organizations identify and manage health and safety risks, improve overall safety performance, and protect workers. Certification to ISO 45001 shows that an organization has met the requirements of the standard and is demonstrating its commitment to worker safety.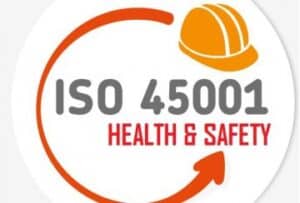 Why Get ISO 45001 Certification in Bangladesh?
ISO 45001 certification is important because it assures customers and clients that a company has met the international standard for occupational health and safety. It shows that the company is committed to providing a safe and healthy work environment for its employees. This certification can also help companies reduce their risk of liability claims, improve employee productivity, and attract new customers. Furthermore, it can help an organization meet regulatory requirements and increase its marketability and establish a basis for continual improvement.
ISO 45001 Certification Benefits
It demonstrates that your organization has the necessary systems and controls in place to manage health and safety risks effectively.
It shows your customers, employees, and other stakeholders that you are committed to safety and reducing risk.
The standard provides a framework for improving safety performance, making your workplace safer.
It demonstrates due diligence, which can help protect your organization from legal liability in the event of an accident.
The standard is internationally recognized and can help you do business with organizations around the world.
It can improve workforce morale and motivation as employees see that their safety is a top priority.
Which Organizations Can Apply?
Any organization that wants to improve its occupational health and safety management system should consider applying for ISO 45001 certification. This includes:
Manufacturing companies
Service companies
Retail businesses
Hospitality businesses
Once you successfully achieve ISO 45001 certification, you can check the status of your certificate by visiting our ISO 45001 certification search Page!
ISO 45001 Certification Cost in Bangladesh
ISO 45001 certification cost in Bangladesh depends on a number of factors, including the size and complexity of your organization, the type of assessor you work with, and the number of audits required. IAS is a well-known professional certification body that provides ISO 45001 certification in Bangladesh at an affordable price. We have a substantial experience in this field and are committed to providing efficient services to our clients. Investing in ISO 45001 certification via IAS is worth your money as it assures a globally recognized standard and improved safety performance.
ISO 45001 Certification Process in Bangladesh
The ISO 45001 certification process has 2 auditing stages, which include:
1] Stage 1 Audit (Preliminary audit) – The first step in an ISO 45001 Certification audit is to assess a company's capacity for Stage 2 (a Certification evaluation). It starts with a general understanding of the company's goals, processes, procedures, and risks, a review of documentary evidence, and a meeting with key personnel to establish an understanding of the company's health and safety management system.
2] Stage 2 Audit (Certification Audit) – At this stage, the entire management system of an organization is inspected and audited to ensure that it meets the ISO 45001 standard. The time required for phase 2 audits depends on a firm's size, the number of facilities it has, and the types of services offered.
After the successful completion of both audits and the removal of any non-conformity issues, the ISO 45001 certification will be granted.
ISO 45001 Certification Validity Period
An ISO 45001 certificate is valid for 3 years and must be renewed thereafter. IAS provides post-certification surveillance audit services to ensure that your business maintains compliance with the ISO 45001 standard. A surveillance audit takes place once every year and we provide 2 surveillance audits during the validity period.
Get ISO 45001 Certified Through IAS
If you want to get ISO 45001 certified in Bangladesh, IAS is here to help. We are a well-recognized certification body with over 15 years of substantial experience in this field. Our team of professionals will guide you through the entire process and ensure that your company meets all the requirements for certification. We offer competitive prices and efficient services, so you can be sure that your investment is worth it.
Contact IAS today to learn more about ISO 45001 certification and ISO 45001 certification Audit Procedure or visit our ISO 45001 certification frequently asked questions page!
Just Ask, Get Answers
Your questions and comments are important to us. Just reach us through phone or email, we got everything covered for your needs.