What is Green Certification?
Green certification is a process through which products and services can be evaluated and certified as environmentally friendly. The goal of green certification is to help buyers identify and purchase environmentally friendly products and services, and to help businesses improve their environmental performance. To be certified as green, a product or service must meet the standards set by the certification program.
IAS provides a very simple yet efficient Grreen certification process to help your organization achieve Green certification in a timely manner!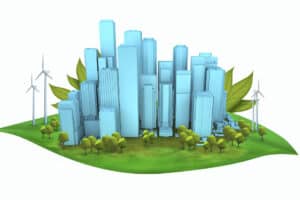 Why Get Green Certification in Bangladesh?
As the world population continues to grow and the demand for resources increases, it is more important than ever to identify and promote environmentally friendly products and services. Green certification can help businesses reduce their environmental impact, save money, and improve their image. It can also help consumers make informed choices about the products they buy. In addition, certification can help businesses build a positive image and differentiate themselves from their competitors.
Benefits of Green Certification in Bangladesh
Green certification gives you the following benefits:
Sustainability – Green certification helps organizations manage their environmental impact and conserve resources.
Cost Savings – Green-certified businesses save money through improved energy efficiency, waste management, and reduced water usage.
Transparency – Certification provides independent verification of green practices, helping consumers make informed choices about the products they buy.
Marketing Opportunities – Certified businesses can use the green label to distinguish their products and services from the competition.
Improved Quality – Green certification helps organizations adopt best practices in environmental management, quality assurance, and risk mitigation.
Enhanced Employee Morale – Employees at certified businesses are proud of their organization's commitment to sustainability and enjoy working in a green environment.
Which Organizations Should Apply?
Any organization that wants to be more environmentally responsible and improve its image can apply for green certification. This includes businesses of all sizes, from small businesses to multinational corporations. Some examples are:
Manufacturers
Retailers
Food and beverage companies
Hotels
Once you successfully achieve Green certification, you can check the status of your certificate by visiting our Green certification search Page!
Audit Procedure of Green Certification in Bangladesh
Apply for Green Certification in Bangladesh through IAS
Our expert certification audit staff will contact you to confirm that all of the certificate's requirements have been met after receiving your application.
If issues are discovered during the certification process, they must be addressed in order to go on.
When all of the criteria have been satisfied, the firm will receive a green certificate.
Achieve Green Certificate in Bangladesh Through IAS
If you want to obtain a Green certificate in Bangladesh for your organization, IAS is the best choice since it is one of the most well-known certification bodies in the country and has helped several key clients in obtaining a variety of product certifications. We have over 15 years of vast experience in issuing our ISO services to clients globally, and we are committed to providing quality services.
Please contact us for a free discussion about the green certification in Bangladesh and specific auditing processes for your business!
Also Visit our Green certification frequently asked questions page!
Just Ask, Get Answers
Your questions and comments are important to us. Just reach us through phone or email, we got everything covered for your needs.