What is GOST-R Certification?
GOST-R Certification is an international standardization certification that is used to certify products and organizations for their compliance with Russian technical regulations. The GOST-R Certification mark is a sign of quality and safety, and it is recognized throughout the world.
Products and organizations that are certified with the GOST-R mark are able to demonstrate that they meet the highest quality and safety standards. The certification is also a symbol of trust and reliability, which can help businesses to expand into new markets.
IAS provides a very simple yet efficient Gost-R certification process to help your organization achieve Gost-R certification in a timely manner!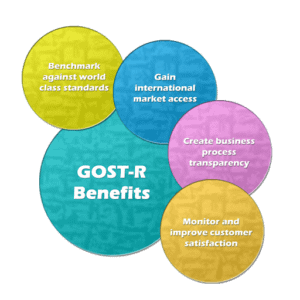 Why Get GOST-R Certification in Bangladesh?
GOST-R certification is an important factor for companies that want to do business in Russia. The certification is required for many products and services, including food, pharmaceuticals, medical devices, and software. Obtaining a GOST-R certificate can be difficult and expensive, but it is worth the effort for companies that want to expand into the Russian market.
There are several reasons why GOST-R certification is important. It indicates that a company meets the rigorous safety and quality requirements of the Russian government. Also, it enables companies to take advantage of the many opportunities available in the Russian market.
Benefits of GOST-R Certification in Bangladesh
GOST-R certification confirms that your products meet the required Russian safety and quality standards.
Certification can help you build a relationship of trust with your Russian customers.
Being certified gives you an advantage over your competitors who are not certified.
Certification is a requirement for exporting products to Russia.
Certification helps you maintain control over your quality assurance process.
Certification allows you to get feedback from Russian experts on how to improve the safety and quality of your products.
Which Organizations Can Apply?
Any company that wants to do business in Russia should consider getting a GOST-R certification. The certification is essential for companies that manufacture or sell products in Russia. It is also important for companies that provide services to Russian customers. Some examples are:
Food and beverage companies
Pharmaceutical companies
Medical device companies
Software companies.
Once you successfully achieve Gost-R certification, you can check the status of your certificate by visiting our Gost-R  certification search Page!
Audit Procedure for GOST-R Certification in Bangladesh
Apply for GOST-R Certification in Bangladesh through IAS
We'll contact you once we've received your application to go through all of the necessary documentation with you before evaluating it.
The documents are then examined to ensure that there are no issues with the certification before it is approved.
After successfully completing the GOST-R requirements, the firm will receive a GOST-R certificate.
You can also go through our Product Certification Procedure to know about the certification process in brief.
Get GOST-R Certified in Bangladesh Through IAS
If you're looking for a reliable and experienced certification body to help you get GOST-R certified in Bangladesh, look no further than IAS. We have the expertise and resources to help you meet all of the necessary requirements for this important certification. We'll work with you every step of the way to ensure that the process goes as smoothly as possible and that you're able to get the certification that you need to do business in Russia.
Contact us to learn more about the GOST-R certification in Bangladesh and auditing processes that are unique to your company!
Also Visit our Gost-R certification frequently asked questions page!
Just Ask, Get Answers
Your questions and comments are important to us. Just reach us through phone or email, we got everything covered for your needs.