What is ISO Foundation Training Course?
The International Organization for Standardization (ISO) is a worldwide body that develops and publishes standards for a variety of products and management systems. ISO Foundation Training Course is about imparting knowledge about the ISO Standards to the participants. The aim of this course is to make the candidates aware of the requirements of ISO Standards and how to use them effectively for their business operations. The course also provides an understanding of the principles of the quality management system and how it can be applied in the workplace.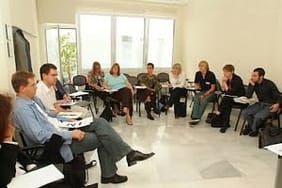 Why ISO Foundation Training in Bangladesh?
ISO foundation training is very important for various reasons. This type of training teaches you the proper way to implement, maintain and improve your organization's quality management system. Additionally, it provides you with the skills and knowledge necessary to effectively manage your business processes and achieve improved performance.
Finally, ISO foundation training can help you save money. When you are properly trained in ISO standards, you can streamline your processes and improve your efficiency. This might help you save money and increase your profits. Therefore, it is clear that ISO foundation training is essential for any business looking to improve its quality management system and performance.
Benefits of ISO Foundation Training in Bangladesh
ISO Foundation Training Course will help you to develop a better understanding of the concepts and terminologies related to ISO Standards.
The course will provide you with insights on how to use ISO Standards for your business improvement.
You will learn how to plan, implement and manage an ISO Certification project.
The training course will equip you with the necessary skills to lead and manage an ISO team.
You will get to know about the best practices in the quality management system and how to improve your business performance.
Through the ISO Foundation Training Course, you will be able to build a more efficient and effective workplace.
Upon completion of the course, you will be awarded an ISO Foundation Certificate which is globally recognized.
Who Can Attend ISO Foundation Training?
Anyone interested in learning about ISO standards and how they may be used in business can take the ISO Foundation Training course. There are no requirements for this program, and it is ideal for anyone with or without prior knowledge of ISO standards. The following are some examples:
Managers who wish to understand how ISO standards may be applied in their company
Quality assurance workers who want to learn more about how to apply ISO standards in order to enhance quality
Engineers who want to know how to apply ISO standards to create better products
Marketers who wish to know about how to use ISO standards to develop new markets
Self-Learning Format for ISO Foundation Training in Bangladesh
This kind of learning is particularly beneficial to those who work full-time since it is convenient for them. The ISO awareness training course may be taken whenever it is convenient for you, and the course materials will be accessible to you for 30 days after purchase. This includes:
Online learning modules
Proactive activities to develop students' understanding of key concepts
Quizzes are available at the end of each lesson to help you better understand the subject.
Standard copies
Access to study materials that may be downloaded and used offline
You'll get a certificate of completion after you've completed the training, and you may be eligible for an internal auditor training session.
For any inquiries or clarifications, chat/email customer service is available.
Why Choose IAS?
IAS is a UQAS accredited certification body with over 15 years of experience in the field of quality management. We offer ISO foundation courses that are globally recognized and cater to the needs of various industries. Our trainers are highly experienced and certified, and they use interactive methods to deliver the course content. Additionally, our course materials are updated regularly to reflect the latest changes in ISO standards. So, if you are looking for quality ISO foundation training in Bangladesh, IAS is the ideal choice.
Contact IAS today to learn more about foundation training or visit our foundation training frequently asked questions page!
Just Ask, Get Answers
Your questions and comments are important to us. Just reach us through phone or email, we got everything covered for your needs.